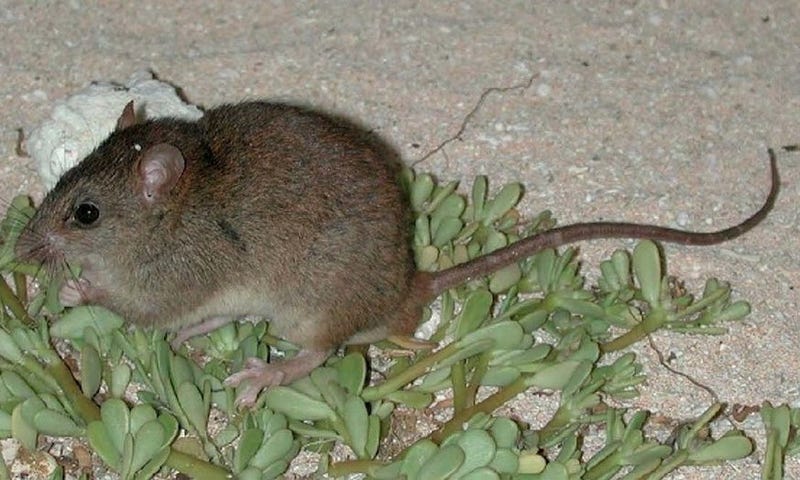 Say goodbye to the Bramble Cay melomys, a small rat-like creature that lived on a tiny island near the north coast of Australia. Significantly, it marks the first time that a mammal has been declared extinct anywhere in the world, and the cause has been attributed to human-induced climate change.

In a new report co-authored by researchers from Queensland's Department of Environmental Protection and the University of Queensland, the "root cause" of the melomys extinction was sea-level rise. But the real culprit here is anthropogenic global warming.
These creatures, which used to number in the thousands, lived on the island of Bramble Cay, which measures a mere 1,115 feet (340 m) across and 300 feet (150 m) wide. This Torres Strait island sits just 10 feet (3 m) above sea level at its highest point, making it exceptionally vulnerable to severe weather and rising waters. The scientists said that the island has been inundated with water on multiple occasions, killing the Bramble Cay melomys and destroying their habitat. Birds on the island have also been affected.

The melomys hadn't been seen since 2009, prompting the investigation. For the past two years, the researchers looked high and low on Bramble Cay for any trace of the rodent. Traps and cameras were placed around the island, and the researchers investigated every nook and cranny. No traces of the animal were found, prompting a recommendation that the status of the melomys be changed from "endangered" to "extinct."
In their ensuing report, Ian Gynther, Natalie Walker, and Luke Leung didn't mince words about the cause.
"For low-lying islands like Bramble Cay, the destructive effects of extreme water levels resulting from severe meteorological events are compounded by the impacts from anthropogenic climate change-driven sea-level rise," they wrote, adding that "this probably represents the first recorded mammalian extinction due to anthropogenic climate change." Other mammals have been driven to extinction by extreme weather before, but the researchers say it's the first time it has happened due "solely (or primarily) to anthropogenic climate change."

Over a period of 10 years, the melomys lost 97 percent of their habitat, with vegetation declining from 2.2 hectares in 2004 to just 0.065 hectares in 2014. Globally, average sea levels have risen by almost (7.8 inches) 20 cm, but sea levels around the Torres Strait have risen at almost twice this rate.

In response, the Queensland government is recommending that no recovery actions be taken: "Because the Bramble Cay melomys is now confirmed to have been lost from Bramble Cay, no recovery actions for this population can be implemented."