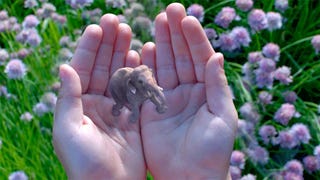 Back in December, former employees of the super-secretive augmented reality startup Magic Leap were circulating rumors that the company was way behind on its goals. Unless the plan is for users to wear a Ghostbusters-style proton pack, it certainly looks like that is true.
According to Business Insider, this is what the Magic Leap prototype looked like as of early January:
So far, Magic Leap has not confirmed the legitimacy of the photo and Gizmodo has reached out for an official statement.
The report claims that the photo comes from "a source" who says the company is desperately trying to prepare for a board meeting next week. An updated prototype will be presented at the meeting that will house the components in belt packs rather than a backpack. And what's that thing in the user's hand? Is it an industrial-sized walkie talkie? Nope, the Verge claims that's the battery pack and it certainly looks like one.