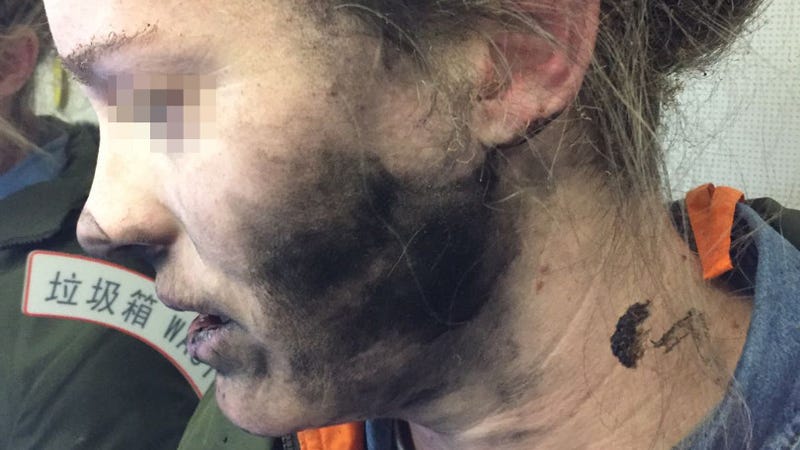 Oh great, another thing to worry about. First, it was exploding hoverboards. Then, it was exploding phones. Now we have exploding headphones—on airplanes!
An unidentified woman recently had a very bad flight from Beijing to Melbourne. As she was sleeping, her battery-powered headphones exploded, singeing her hair and causing burns on her face and hand. The sound of the explosion woke her up, and the ordeal just sounds dreadful from there on out.
"As I went to turn around I felt burning on my face," the woman told the Australian Transport Safety Bureau (ATSB). "I just grabbed my face which caused the headphones to go around my neck."
That must be the end of it, right? Nah.
"I continued to feel burning so I grabbed them off and threw them on the floor," she said. "They were sparking and had small amounts of fire."
By the time the headphones starting melting through the cabin floor, the flight attendants got involved.
"As I went to stamp my foot on them the flight attendants were already there with a bucket of water to pour on them," the victim explained. "They put them into the bucket at the rear of the plane." In terms of the smell—a combination of melted plastic and burnt hair—she added, "People were coughing and choking the entire way home."
Authorities did not say what brand the exploding headphones were. An ATSB spokesperson told The Daily Mail that "it wasn't important." It kind of seems important, though, doesn't it? There's a chance that they were some cheap, no-name wireless headphones bought at some electronics market in China. There's also a chance that they were the same name brand, noise-cancelling headphones that you like to wear when you take an airplane ride and could reflect a wider manufacturing flaw.
In its news bulletin about the incident, the ATSB talks up the importance of storing battery-powered devices properly on planes, offering some safety tips (e.g. "if a passenger's smart phone or other device has fallen into the seat gap, locate their device before moving powered seats.") Maybe the Australian authorities want us to be afraid of all wireless headphones and smartphones and anything else that uses batteries.