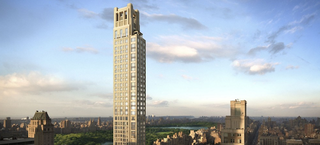 $100 million apartments aren't the norm in NYC, but with "vertical mansions" bubbling up all over, it's only a matter of time. This triplex, which the Wall Street Journal describes as "the city's most expensive apartment," is the latest contender.
The three-level penthouse will sit at the crown of a luxury tower on Park Avenue designed by Robert AM Stern. At 51 stories, it's not the tallest, but it's likely going to be the priciest: The private terraced triplex is priced at $10,000 per square foot—more than $120 million for 12,400 square feet in total. The only interior rendering is pretty rough, but shows a private pool (and creepy scale model):
$100 million sounds hyperbolic, but some of its neighbors are destined to offer similarly priced units.
This is the so-called "Billionaire's Row," a long thicket of astronomically expensive towers along West 57th Street (which we've written about before). This is destined to become a neighborhood of "vertical mansions," a row of towers that are accessible only to a handful of owners who occupy multiple floors.