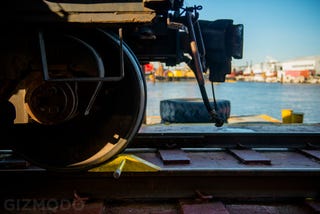 This week in Tech Reads: DIY electronic brain stimulation, a chat with the man who invented the browser tab, the strange hi-caffeine soda that fuels Germany's hackers, and so much more!
Greg Miller looks at the strangely adventurous world of do-it-yourselfers experimenting with electronic brain stimulation, using home-brewed hardware and inspired by a small clutch of research on the topic. [Wired]
Joseph Bernstein chats with Adam Stiles, a software engineer who brought the first browser with tabs to the world. You've got Stiles to thank for the 37 tabs you've got open right now that you'll probably never actually look at. [BuzzFeed]
Alex Goldman and PJ Vogt look at the notion of virtual rape, including the story of a woman whose avatar in the online game DayZ was raped. As the virtual world gets more realistic, how do we handle the problems that still challenge us in the real world? [TLDR]
Drake Bennett examines Lenovo's recent acquisition shopping spree, and the business philosophy that helped it become the top-selling PC brand in the world. [BloombergBusinessweek]
Greg Thomas writes about Club-Mate, the strangely-flavored high-caffeine soda that's become the favorite fuel of Germany's hackers. [Motherboard]
Dan Morse brings us the shocking story of Philip Welsh, a staunchly individualistic man who never owned a cellphone or computer. He left no digital trace of his life—and since he was murdered in February, that lack of a digital footprint has made it impossible for police to track down his killer. [The Washington Post]
Marina Galperina introduces us to Ramsey Nassar, a Brooklyn-based artist born in Lebanon who's attempting to create the world's first Arabic computer coding language. [Animal New York]
Image: in honor of National Train Day, a photo of a rail car riding a barge across the Hudson Bay. Our assistant photo editor Nicholas Stango got to ride the ferry—check out his story here.