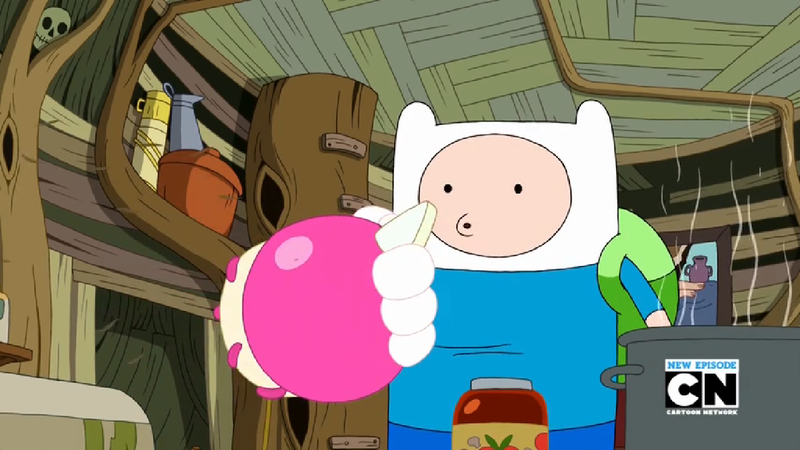 Know what time it is? Iiiiiiiit's time for some serious daddy issues and a learning experience. I guess you can call that an adventure. Most people call it, like, clinical therapy. Then again, most people don't get to manifest telekinetic arms and build towers into space in therapy... wait, I'm getting ahead of myself.
Welcome to this week's Adventure Time recap. "The Tower" was a good episode that chronicles Finn's first attempt to deal with his inner dad-demons. There are a handful of interesting things to note, as always, but the episode was mostly a tease (the good kind, though). Also, this recap is picture heavy because there's so much stuff going on. So, BEWARE OF BEAUTIFUL PICTURES (I can only think of the horror you're about to endure).
Anyway, the episode starts with Finn making spaghetti, which turns out to be really hard when you have a giant fucking prosthetic candy arm that swings around like an elephant trunk made of jaw breakers. This raises the first question of the episode: PB couldn't have done better? I mean, we saw her build Shoko (Finn's past life girl from last season) a perfectly functional, minimal robot arm. So I'm not sure why she went with this beastly thing, but Finn gets fed up with it pretty quick. Then it just kind of explodes.
That's when Jake pokes his head in to see what all the hub-bub is about. Finn vents his frustration, but his pal assures him that it's OK. After all, Finn has just gone through some serious emotional biz with his dad and losing his favorite arm. But Jake also tells Finn that he'll feel better eventually, and that the answer for how to do so will come from within — within his melon-heart, that is. Finn looks inside seeking answers and comes to the conclusion that the best way to feel better is by punching his dad in the face and ripping off his favorite arm. Jake just laughs that off, saying that can't be Finn's melon-heart talking because violence is bad. And before he runs off to the spaghetti store, he reminds Finn to trust his melon-heart.
Finn takes the alone time as an opportunity to clear his melon-heart the field outside the tree house. He comes to the conclusion that it would be easiest to solve the problem if he could just find his dad. And since his dad went through a portal into space and space is in the sky somewhere, Finn considers how he might get to space. The ideas aren't really coming, but a few rocks are — floating over, no less, into a spectral hand that stacks them up. It takes a minute for Finn to realize what's happening, but eventually he finds that not only is the arm (which is reminiscent of the white, healing-goo from the season opener) attached to his bod, it's powerful too. As for the rock pile, Finn takes it as a message from his melon-heart, seemingly coming to a conclusion as the scene shifts to later that afternoon.