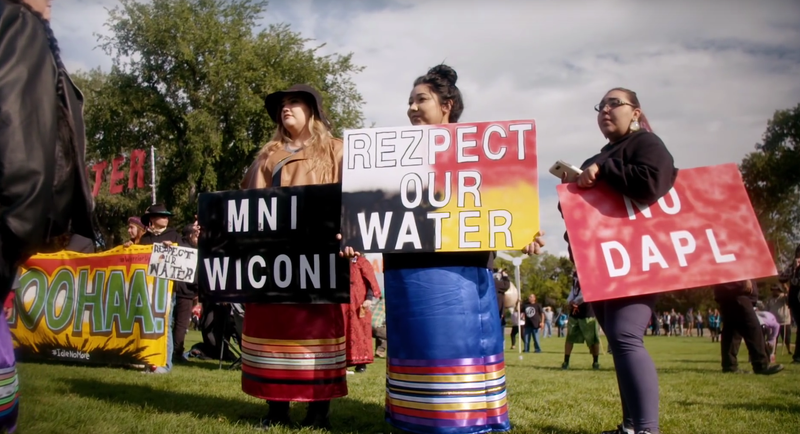 The hits just keep on coming for the environmental community. On Tuesday, President Trump signed executive memoranda aimed at advancing construction of the Keystone XL and Dakota Access pipelines, projects heavily protested by climate activists and members of Native American and Aboriginal tribes as potentially catastrophic oil spill hazards.
Both the Keystone XL and Dakota Access Pipeline (DAPL) projects were frozen by Obama, who vetoed the former project in late 2015, and denied the final permits needed to push the latter pipeline completion last month. Yesterday, Trump revived both when he signed a document allowing the feds reconsider the Keystone XL, and another aiming to expedite completion of the DAPL. "We'll see if we can get that pipeline built," Trump said on Tuesday of the Keystone XL pipeline. "A lot of jobs, 28,000 jobs. Great construction jobs."
These actions are the latest alarming indication that Trump's administration is constructing a false binary, with jobs and the economy on one side, climate and environmental regulation on the other. While neither pipeline bears significant climate risks on its own—though concerns about drinking water contamination are legitimate—the Trump administration is sending a clear signal that this is the beginning of a new, pro-fossil fuel era. And, just as importantly, that it's the end of Obama's era of federally-mandated climate action.
Here's a quick recap of the controversy surrounding each of the embattled pipelines, and what Trump's decision to revive them could mean.
Dakota Access Pipeline

The Dakota Access Pipeline, led by Energy Transfer Partners company, is an underground pipeline intended to transport crude from the Bakken oil fields in northwest North Dakota to an oil tank farm in southeastern Illinois. The pipeline, which will stretch 1,172 miles, is reportedly about 87 percent complete, but has come up against strong opposition, both near the Standing Rock reservation in North Dakota, and in outer areas once promised to the tribe, but later taken away.
In the summer of 2016, the Standing Rock Sioux Tribe filed a complaint in federal court against the DAPL, saying that it "threatens the Tribe's environmental and economic well-being, and would damage and destroy sites of great historic, religious, and cultural significance to the Tribe," because of its proximity to sacred land and the potential to contaminate the Missouri River, which the tribe depends on for water, and which the pipeline would travel directly underneath.
Contamination of water supplies happens more often than oil companies would like to admit. Just last week, a Canadian oil pipeline spilled 53,000 gallons of oil onto Aboriginal land in Saskatchewan, Canada. And last December, about 150 miles from the site of Dakota Access Pipeline protests, 1,800 barrels of oil were recovered from a creek in North Dakota after pipeline equipment initially failed to detect the leak. In other words, the key thing Standing Rock protesters are trying to avoid has already happened.