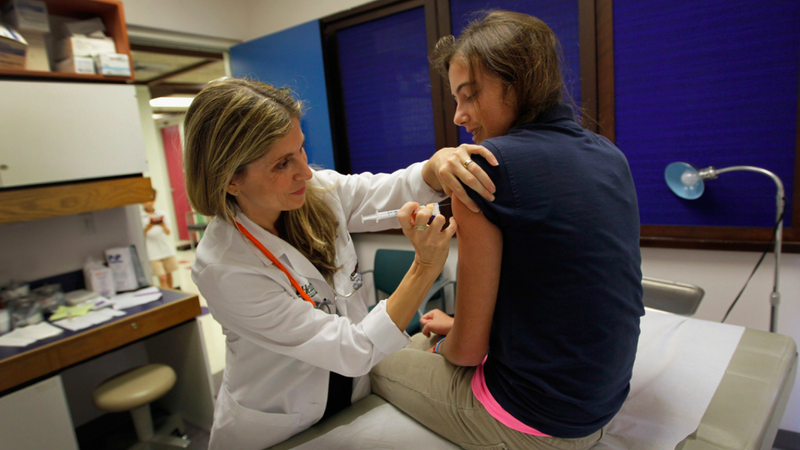 A decade after its introduction, the vaccine for human papillomavirus has reduced the prevalence of this cancer-causing STD in teenage girls by nearly two-thirds. It's an incredible success story, leading experts to question why HPV vaccinations aren't more common in the United States.
According to a new study in Pediatrics, there was a 64 percent decrease in HPV prevalence among teenage girls aged 14 to 19, and a 34 percent decrease among women aged 20 to 24, within six years of the vaccine's introduction. The federal research team, headed by Elizabeth R. Unger from the Centers for Disease Control and Prevention (CDC), investigated the prevalence of the disease in women and girls of various age groups before the vaccine was introduced in 2006, and compared the prevalence in the same age groups between 2009 to 2012. Only girls were studied because the recommendation to vaccine boys wasn't issued until 2011 (the researchers say they'll include boys in future studies).

"The vaccine is more effective than we thought," Debbie Saslow of the American Cancer Society told the New York Times. And vaccinated teenagers are not spreading the virus, so "they also protect the people who haven't been vaccinated."
HPV is the most common sexually transmitted infection in the United States. The CDC says nearly all sexually active men and women will contract some form of it at some point in their lives. Most people will clear the virus, but some forms of HPV persist, leading to genital warts and certain forms of cancer, including cervical, anal, penile, mouth, and throat cancers.
When the vaccine was introduced 10 years ago, the CDC immediately recommended it be administered to all adolescents. But today, only 40 percent of girls and 20 percent of boys in the US are immunized. Part of the problem has to do with the unfounded claim that HPV vaccines will somehow make girls more promiscuous; a 2014 Canadian study quickly dispelled this false association.