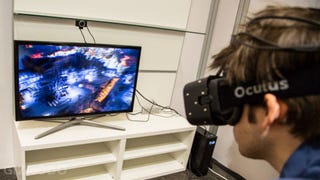 Virtual reality is a lot like the flying car: It's always juuuust a few years off. But recently—just this week—the VR hype has reached a fever pitch. And let me tell you this is no Virtual Boy bullshit. When we look back at the past through rose-colored VR headsets, we'll see that this is the moment it took off.
Between the announcements of Valve and HTC's Vive headset at Mobile World Congress, and the slew of Game Developer Conference announcements that have followed, the crawl towards virtual reality has turned into a flat-out race.
This isn't the '90s. VR is here to stay.
The tech exists...
I know, I know. You're skeptical. And you have every right to be! We've all been burned by bad, not-quite VR experiences. Maybe you've had your retinas singed by Teleroboxer or played a game of Beach Head at an arcade and emerged with your life distinctly unchanged. Maybe you've even spent 10 or 15 nauseating minutes playing Euro Truck Simulator in an Oculus Rift at a crowded event somewhere, glancing around at a low-res world that's smearing right before your very eyes.
It's hard to square those experiences with the repeated, breathless squeeeeees of "Oh my god you guys" from professional nerds like me. First about the Oculus Rift, and then about Sony's Project Morpheus, and now about Valve and HTC's Vive.