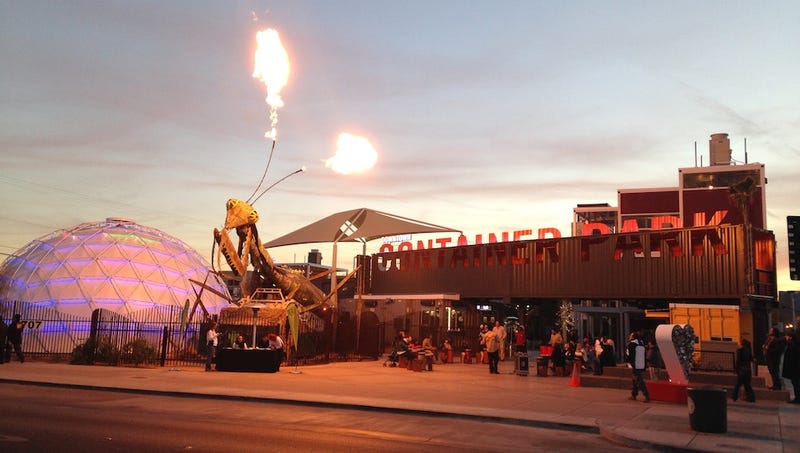 On the Downtown Project's website, among several lofty goals—such as adding ground-level density and creating passionate communities for downtown Las Vegas—one goal sticks out as a bit different, if not simply odd: "Create the shipping container capital of the world."
I am not sure that title is something any other city or neighborhood has laid claim to, or even would consider (and I would also say that Shanghai, the world's biggest port, is already, technically, the shipping container capital of the world). But I understand the reasoning for using containers, as explained on the site: Shipping containers are a quick way to create temporary space in downtown Vegas' mostly empty lots.
Colorful containers stacked two and three stories high make up the structure
Although most of us are probably tired of seeing Yet Another House Made From Repurposed Shipping Containers, I would argue that they still hold a certain cultural cachet, a kind of "cool stuff is happening inside" vibe. The rumor is that Downtown Project founder Tony Hsieh wanted shipping containers because he went to a party in one. (This is a recurring rumor, actually—parties Hsieh went to seem to have inspired many of the Downtown Project's moves.)
The brand-new Downtown Container Park is located at the corner of Fremont and 7th Street, a few blocks from the Emergency Arts building I wrote about yesterday. It's the first community-facing structure the Downtown Project has built from the ground up, and it's definitely getting the most attention of anything they've done before.