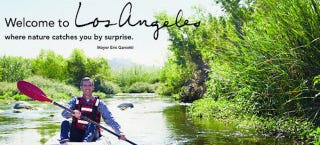 When we think about cities and branding we might think of a logo on a t-shirt, or perhaps a slogan that's slapped onto banners. But a city brand now encompasses much more—it's selling a lifestyle. The Guardian has ranked 57 global cities with the best brands. The winner might surprise you.
How do you even measure one city's brand against another? The report was authored by the consulting group Saffron, and their methodology was unorthodox, to say the least:
The report measures two aspects of a city's brand: its "assets" – attractions, climate, infrastructure (particularly transport), safety and economic prosperity – and its "buzz", a combination of social media (Facebook likes and Twitter sentiment analysis) and media mentions. Assets and buzz were each graded out of 10; the numbers were added to produce a total score.
By plotting each city according to their asset and buzz rankings, you can see some clear winners emerging on a global scale (although some of the Eastern cities did not fare as well using this Facebook/Twitter-centric system because some countries have different cultural favorites when it comes to social media networks):
Looking at the rankings, you'll see four cities nestled towards the right upper corner which have been listed as the top four: L.A., New York, London and Paris. And the city with the best brand in all the world, according to this study? Los Angeles.
For cultural variety and sheer glitter, however, LA outshines them all. It has stunning weather that New York and London just can't compete with, the amazing beaches to show it off, world-class art, movie history, an endless parade of famous attractions, an improving crime rate and a certain well-known sign in the hills. After years of languishing, the City of Angels has top spot in the brand firmament.
Perhaps it's no wonder why L.A. also claimed three of the top 10 most Instagrammed places in 2013. Los Angeles presents itself well to the world, even if it's not an entirely accurate vision of what the city might be.