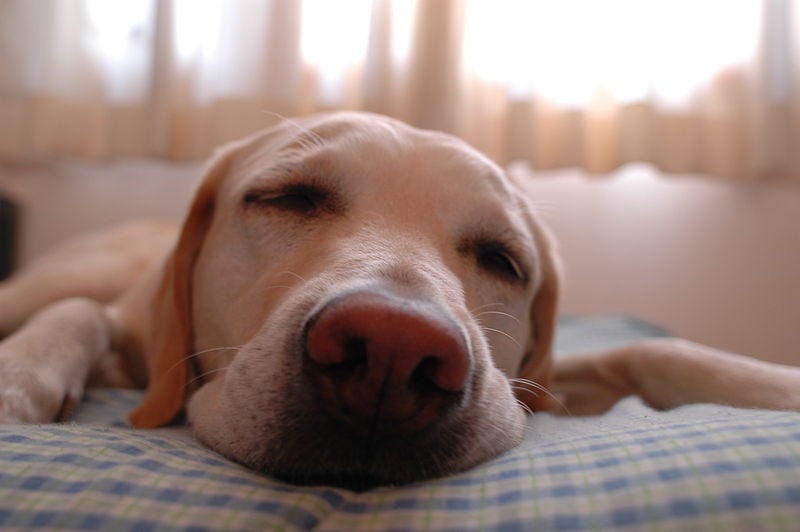 "Almost all other animals are clearly observed to partake in sleep, whether they are aquatic, aerial, or terrestrial," wrote Aristotle in his work On Sleep and Sleeplessness. But do other animals dream? On that the Greek philosopher also had an opinion.
In The History of Animals, he wrote: "It would appear that not only do men dream, but horses also, and dogs, and oxen; aye, and sheep, and goats, and all viviparous quadrupeds; and dogs show their dreaming by barking in their sleep." His research methods may lack sophistication, but Aristotle may not have been too far off the mark.
We certainly can't ask animals if they dream, but we can at least observe the evidence that they might. There are two ways in which scientists have gone about this seemingly impossible task. One is to look at their physical behaviour during the various phases of the sleep cycle. The second is to see whether their sleeping brains work similarly to our own sleeping brains.
The story of how we worked out how to peer into the minds of sleeping animals begins in the 1960s. Back then, scattered reports began to appear in medical journals describing people acting out movements in their dreams. This was curious, because during so-called REM sleep (rapid eye movement), our muscles are usually paralysed.
Researchers realised that inducing a similar state in animals could allow them to probe how they dream. In 1965, French scientists Michel Jouvet and J F Delorme found that removing a part of the brainstem, called the pons, from a cat's brain prevented it becoming paralysed when in REM. The researchers called the condition "REM without atonia" or REM-A. Instead of lying still, the cats walked around and behaved aggressively.
This hinted they were dreaming of activities from their waking hours. And studies since have revealed similar behaviour. According to veterinary neurologist Adrian Morrison, who has written a review of this research, cats in REM-A will move their heads as if following stimuli. Some cats also show behaviour identical to predatory attacks, as if they were chasing mice in their dreams. Similar dream activity has been seen in dogs.
Some humans have been found to 'act out' their dreams too – if they suffer from a condition called REM Sleep Behaviour Disorder. "Punching, kicking, leaping, and running from the bed during attempted dream enactment are frequent manifestations and usually correlate with the reported imagery," according to the International Classification of Sleep Disorders (ICSD). Injuries are common among these people and those sleeping with them, the ICSD adds.