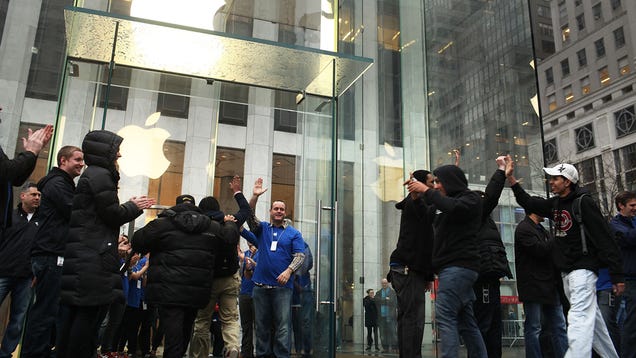 Did you hear? The new iPhone is coming next week! Not only that, but it's going to be joined by a cheaper iPhone, which will be plastic and come in different colors. As they do every year, people will be standing in line for the opportunity to purchase these iPhones. Should you be one of them?
No.
What if I am a HUGE Apple fan?
No.
But what if I don't stand in line and they sell out?
No.
What if I don't have an internet connection at home, so I can't preorder like a normal human being and have it delivered to my door?
No.
What if I've stood in line for every iPhone since the original, and at this point it's like a tradition? Like, part of how I self-identify?
No.
What if someone is paying me to do it for them?
No.
What if I just happen to have that day off of work and find myself near an Apple Store and the line is only like eight people deep and I've got nothing better to do?
No.
What if my standing in an iPhone line was my dying grandmother's last wish?
What? No.
What if someone straps a bomb to my chest and demands that I go stand in an iPhone line for them, sort of like that movie 30 Minutes or Less and/or the real-life events that inspired that movie?
No.
What if—
No.
But I didn't eve—
No.
WhatifIjustwanttodon'ttellmehowtolivemylife?

...
...
...
...
...
...
...
No.
Image credit: Getty Images