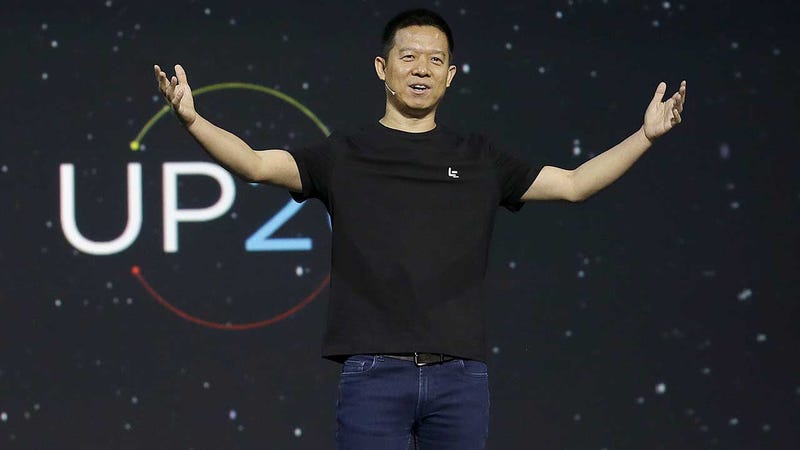 LeEco, the so-called "Netflix of China," was supposed to take the US tech scene by storm. Instead, its ambitious plans appear to be collapsing. Six months after a splashy US launch, Bloomberg reports that LeEco missed its 2016 US sales goals "by a wide margin" and that it is planning on cutting jobs.
According to the report, the company is gearing up to cut about one third of its workforce in the United States:
The U.S. unit is also making plans to eliminate about 175 jobs, which would shrink its staff in the country to about 300 people, said the person, who asked not to be named because the financial details aren't public.
Even worse, according to Bloomberg, the layoffs haven't happened yet because the company can't afford to pay severance:
LeEco has been planning to make another round of job cuts for several months, but the timing for the reduction depends on when the company can build up enough funds to pay for employee severance packages, the person said.
Cash flow has been an issue recently for LeEco. According to Bloomberg, employees who were supposed to be paid on March 31 didn't get paid until April 4th.
Before its recent problems, LeEco had big plans to take on established American tech, media, and automotive players with its low-cost, high-spec gadgetry and services. The company has been hugely successful in China, where its video service has 730 million monthly subscribers, and it sells millions of smartphones, TVs, and other gadgets. At its US launch event in San Francisco back in October, LeEco made its pitch to American consumers and tech watchers. In conversations I had with executives leading up to the launch, the implication was clear: LeEco wanted in on the US market, and the company's Chinese owners will willing to spend the money it took to make headway.
Some six months later, it appears those plans haven't panned out. On Monday, LeEco revealed that it was cancelling plans to buy hugely-popular budget TV brand Vizio. When the $2 billion planned acquisition was first announced back in July 2016, LeEco seemed to be looking at Vizio, which has an established presence in retailers such as Walmart, Costco, and Best Buy, as its entryway to the US.