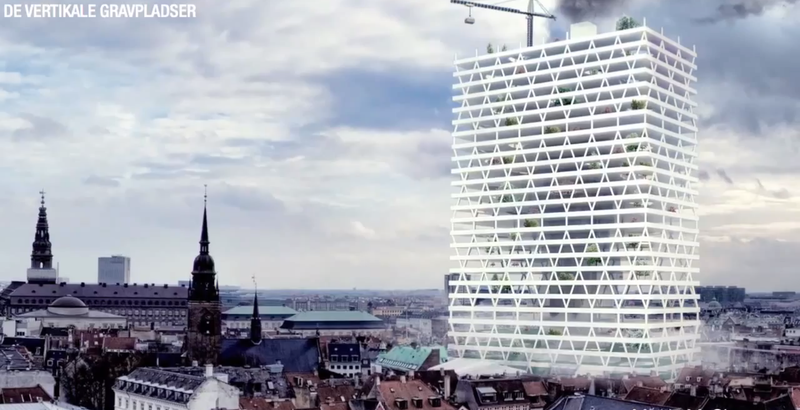 This month in Oslo, an architecture student named Martin McSherry presented a controversial idea to a gathering of cemetery and funeral professionals. The topic? His design for a "vertical cemetery" that could, in theory, solve Norway's growing graveyard conundrum.
In McSherry's vision for Oslo—which he presented at the Oslo Conference for Nordic Cemeteries and Graveyards—the dead would come to rest in a tall, airy skyscraper in the center of the city. It would start out as a simple white framework with an adjoining, permanent crane, which lifts coffins into slots inside the structure. The tower would grow over the years, as this crane would add more and more plots to the network—over time, the building would come to represent the sum of the city's citizens—a reminder and a memorial at the same time.
"In time, the city's tallest and largest building will become a grave for all its citizens–the city's ever-changing monument," McSherry added. The precious land saved on the ground, in turn, would be used for parks and buildings for the living. The idea was met with a cacophony of protests—but also a few strong supporting voices.
But why does the idea of a skyscraper burial seem to disturb so many people?
First of all, it helps to know a bit about Norway's situation. Norway, like many land-scarce countries, practices grave recycling: Every citizen is allotted two decades in their spot before the land is reused for other bodies (your family can pay to preserve your space for longer, if they want). It's a practical solution—and it worked fine until World War II.
That was when Norwegian law began requiring that bodies be buried inside of air-tight plastic wrappers—the thinking being that the tarps would prevent contamination of soil and water source. But when the first batch of graves were turned over for reuse, the bodies hadn't decomposed completely—thanks to the protection of the plastic. As a result, the country is quickly running out of spots to bury its citizens.