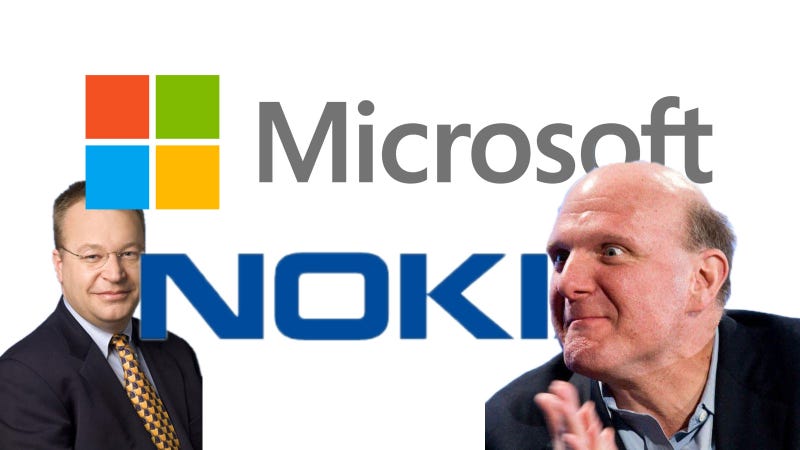 By now you've no doubt heard today's surprising news; Microsoft has gobbled up Finland's finest phone division in a $7.2 billion deal. On the surface, it's a takeover that doesn't make much sense. But when you look closer, it... still doesn't make much sense. But that doesn't mean we can't try.
Let's start with what Microsoft is and is not getting, at least on paper. For those billions, Microsoft gets in return:
Nokia's smartphone and mobile phone business, including the manufacturing and assembly bits.
Nokia personnel, including the design team, the sales/operations team, and the Stephen Elop team.
A buncha patents, but not all the patents.
The ability to license Nokia HERE map technology, but not HERE itself, which come on.
A place to crash in Finland.
Which, hey, nice, not bad. But also, arguably, totally unnecessary.
A Marriage of Convenience
Why buy the cow when you can get the milk for free? That's archaic and misogynistic when you use it in a dating context. But here's the thing: It's actually totally true when you're talking about a business transaction. And in Nokia, Microsoft had a lacteous cornucopia.
Nokia wasn't just Microsoft's best partner. The two companies had totally bought into each other; Nokia didn't make phones for competing platforms, and Microsoft's relationship with other Windows Phone 8 partners has essentially flatlined. Even though they weren't technically married, they were certainly common law. So what do they gain by making it official?
In its presentation on the strategic rationale (PDF) behind the deal, Microsoft says that bringing Nokia phones in-house "protects Windows Phone future;" having ready first-party hardware means that Windows Phone will, in theory, last as long as Microsoft does. And that's where the picture starts to get more clear.
Nokia's smartphone sales last quarter were down 24 percent (PDF) year over year. Its dumbphone sales, typically a source of strength, declined 39 percent. In fact, every single Nokia division was down double digits in both sales and profitability. That's a company that needs a lifeline. Microsoft threw it one.