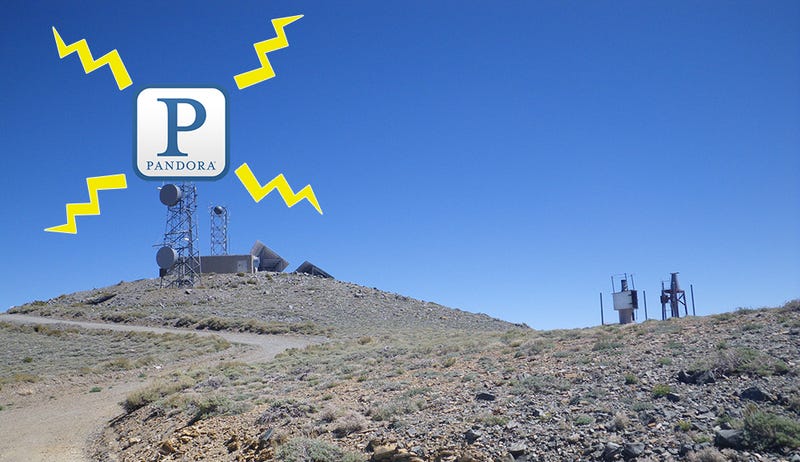 Late in the day on Tuesday, news emerged that Pandora had acquired an FM radio station in South Dakota for an undisclosed sum. Yes, you read that right. The world's largest internet radio station is getting into the terrestrial radio business, and it's not because Pandora's trying to build out its antique antenna collection. Either Pandora's trying to save money on licensing fees in order to improve its service, which is way the company says it's doing, or Pandora's staging some weird internet-meets-Earth publicity stunt, which is what it seems like the company is doing.
Pandora has been upfront about its stated intentions. The company's assistant general counsel, Christopher Harrison, explained the reasoning of buying the radio station on The Hill's Congress Blog. There's a whole lot about Pandora's present battle with folks like the American Society of Composers, Authors and Publishers (ASCAP) over licensing fees and a sly mention of how terrestrial radio stations are given "preferential treatment" thanks to an agreement from January 2012. You don't even have to read between the lines to figure out how Pandora's trying to game the system that's enabling competitors like Clear Channel's iHeartRadio to pay lower licensing fees.
That makes good sense for Pandora. Why wouldn't the makers of the Music Genome Project want some sort of advantage in the increasingly crowded internet radio business? Despite being a decade old, Pandora has far fewer subscribers than competitors like, say, Spotify. But Harrison suggests that Pandora's ability to innovate and offer more to listeners is hindered by the evil ASCAP and friends who "seek to impose unprecedented royalty increases that are neither reasonable nor competitive." And although some tech bloggers are trying to connect Pandora's move to Apple's iRadio announcement earlier this week, the company's actually been working on this plan to buy an AM or FM radio station for at least six months. So this was no rash decision.