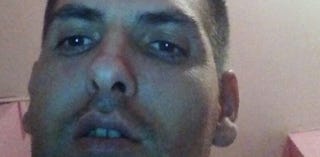 Taking a photo of yourself while inside someone else's house illegally might not be the first, second, or even third thing you'd think to do—especially when using your victim's own camera or cell phone—but, hey, you're probably not a burglar. Taking pics of yourself while holding your victim's property is probably also not something you'd want to do—and you'd almost definitely not then post those photos to your victim's Facebook page. But, again, you probably don't think—if that's what this can be called—they way burglars do.
Yet that's no reason not to take pleasure in other people's ill-considered digital actions and the apparently irresistible pull of the criminal self-portrait—so let's take a quick look at some examples of burglars taking selfies.
A Self-Portrait of the Burglar as a Young Man
Burglars taking selfies—and being caught because of those very self-portraits—are a surprisingly common story. But they were in the news again last night when the face of the gentleman seen on the right side of the image, above, popped up in the iCloud account of a gym in Colorado. Taken with an iPad stolen from that same gym, the selfie gave local police a possible suspect in the iPad theft.
"Police are investigating whether a man who apparently snapped a selfie with an iPad reported as stolen from a Colorado gymnastics studio played a role in its disappearance," we read. "A picture of the dark-haired, bearded man with a cigarette clamped in his mouth appeared Saturday in Premier Gymnastics' iCloud account, its collection of data stored on remote servers and available online."
This is similar to the story of the man seen in the lead image of this post, a burglar in the English town of Kenilworth whose selfie popped up in the Amazon account of the man from whom he had just stolen a Kindle. "Among the items stolen," the Coventry Telegraph explains, "was a Kindle Fire, together with a quantity of jewelry and an iPod. The owner of the stolen Kindle later bought a new Kindle and when he activated his account he found a photograph in his account of an unknown male, which had been taken just a couple of hours after the burglary took place."
Like a face from nowhere—a spirit, a ghost—this man's curious visage was there waiting for the new Kindle owner, unaware that his crime had been secretly synced across devices.
After all, sometimes it's the objects themselves that will most immediately betray any of you burglars out there, a statement to which this stolen laptop surreptitiously photographing its new home in Tehran can attest. In an age of networked objects, data—whether geolocation and selfies all—will flock back like homing pigeons to the cloud accounts that rule them.