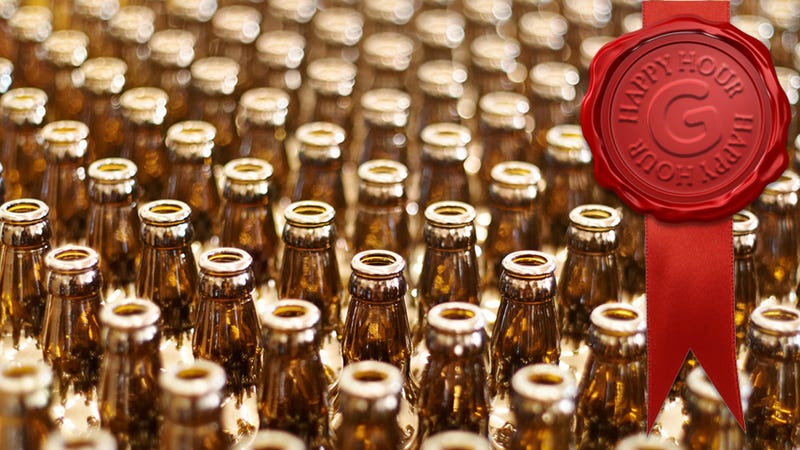 You'd know a can of Budweiser anywhere. Like many other major brands, whether it's Coca-Cola, M&Ms, or BMW, Bud's red and white packaging is instantly recognizable. It's familiar, it's safe, and it's universally likeable. But recently Budweiser, along with several other ubiquitous beer makers including Miller Lite, Heineken, and Sam Adams, have made major changes to their iconic packaging. Here's why.
It's Friday afternoon, you've made it through the long week, and it's time for Happy Hour, Gizmodo's weekly booze column. A cocktail shaker full of innovation, science, and alcohol. Bottles and cans, just clap your hands.
Over the past few years, the shelves of your local liquor store have become crowded with craft beer and artisanal ingredients. But Bud's brand is all about being a comforting, unwavering staple. So why is it—along with a crowd of other major beer companies—changing?
Turns out there are lots of reasons. But before we get into the why, let's take a look at the how. Because the next time you order your favorite cold brew, the bottle it comes in could be downright unrecognizable.
Miller Lite
For the first time since 1973, MillerCoors has totally revamped the classic longneck. The torso of the bottle, so to speak, has been elongated, and the neck is slightly shorter. Miller design folks say that's to make it easier to drink. It looks a little more streamlined—and loses the swirled neck that was added a few years back—but holds onto key elements like brown glass. The profile is similar, and the diameter is the same, but there's also a new raised portion on the glass. Ever find yourself peeling off the label of a bottle? According MillerCoors' packaging and design lead Charles Ho Fung, that's called the "the fiddle factor," the bottle's proverbial comfort blanket towards which your fingers naturally gravitate. This new bit gives you something to fiddle with long after the label's been torn to shreds.