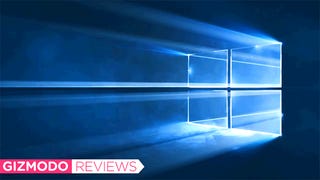 Windows 10 defies review.
It's not a finished product. It will never be a finished product, if you believe Microsoft. Like Apple with Mac OS X, Microsoft has decided that the tenth version of their operating system will be the final one—it'll just get updated, year after year.
Only with Windows 10, even some already-announced features aren't quite here. On Windows phones, Xbox One game consoles, and reality-bending headsets like Microsoft HoloLens, Windows 10 has totally different interfaces we haven't even tried yet. Sooner or later, Windows 10 is coming to all these platforms too.
More importantly, Windows 10 is coming to hundreds of millions of PC users, each person installing it on a slightly different computer, installing different apps and using different features. "We're making pizza for 1.5 billion people," Windows 10 user experience manager Mohammed Samji likes to joke. "What topping do you want?"
No one person or publication can review all those different experiences. Not even the ones available today, to say nothing of the ones to come.
Which is why many Windows 10 reviews you'll see on the web are just an overview of the new features you can expect to see, and a cursory idea of how well they work. Not that there's anything wrong with overviews! Here's a great one: