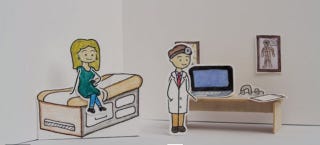 Fitness and health tracking apps and devices are so trendy that fashion designers are set to make a killing on sparkly bracelet cases for them. We like the idea of gadgets telling us when we haven't exercised enough, or when we need to sleep more. But what about an app to track mental health?
Startup Ginger.io monitors smartphone behavior for signs of depression, schizophrenia, and other mental health issues. It uses your phone's motion accelerometer and global positioning to measure where, how, and when you move. It records how long you spend idling and talking or texting. It sounds both potentially helpful and infinitely creepy.
MIT News interviewed the founder, Anmol Madan, about exactly how Ginger.io can tell when a user's smartphone behavior signals mental distress. "If someone is depressed, for instance, they isolate themselves, have a hard time getting up to go to school or work, they're lethargic and don't like communicating with others the way they typically do," Madan told his alma mater. "Turns out you see those same features change in their mobile-phone sensor data in their movement, features, and interactions with others."