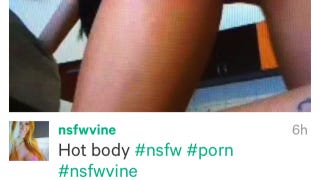 Well folks, the wild west days of Vine are over. The people behind the six-second video app have announced in a blog post their decision to ban "explicit sexual content" from its offerings. No more click-through warning—it'll all be gone.
It's not that Vine doesn't like porn! They just don't want it going on in their vineyard, that's all:
For more than 99 percent of our users, this doesn't really change anything. For the rest: we don't have a problem with explicit sexual content on the Internet –– we just prefer not to be the source of it.
Finally, a one percent you belong to!
The updated terms of service explain exactly what Twitter (and thus, Vine) considers "explicit sexual content." Twitter, you may recall, owns Vine—could the mothership banning skin flicks on Vine hint at a future where Twitter itself starts censoring posts? One could maybe come to that conclusion. It wouldn't be the first time a popular outlet locked folks out of its steamier corners.