While some webcomics deliver a quick joke or the latest installment in a long-form story, many comics floating around the Internet have something to teach us about the world. Here are some of our favorite comics that delve into science, history, philosophy, and more.
xkcd by Randall Munroe: Probably the most famous of the science-related webcomics, xkcd often delves into Munroe's particular passions, including computer science, astronomy, and physics. But his most stunning comics are deceptively simple data visualizations: his radiation chart, his set of gifs showing the frequencies of different events, his depiction of gravity wells for different celestial bodies (the image up top). At its best, xkcd isn't just romanticizing science, but making the world around us a little easier to understand.
PHD Comics by Jorge Cham: Most installments of PHD Comics (Piled Higher and Deeper Comics) involve frazzled perpetual grad students and their disinterested advisor. But Cham also takes on the role of science journalist, making comics and animated videos about everything from the Higgs Boson to the difference between dogs and hyenas to quantum computers. Recently, he posted a comic demystifying the recent cosmic inflation discovery. It all reminds us why people put up with those grad programs in the first place.
Bird and Moon by Rosemary Mosco: Mosco always finds the charming side of natural science, with cheeky comics about the threat displays of adorable animals, the differences between frequently confused animals, animals with misleading names, and mnemonic devices for remembering the calls of Eastern and Western North American birds. It's all I can do to keep from buying up all her posters and plastering my home with them.
G/O Media may get a commission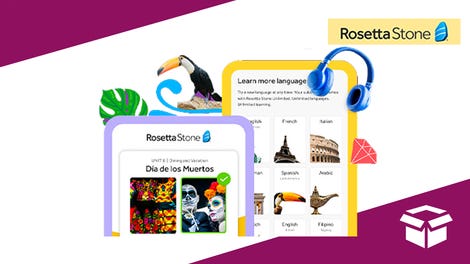 Extra 20% off
Rosetta Stone Lifetime Subscription - All Languages
Saturday Morning Breakfast Cereal by Zach Weiner: SMBC isn't strictly a science and philosophy comic; Weiner is as likely to tell a joke about genitalia as one about infinite parallel universes (although the two aren't mutually exclusive). But while SMBC is meant to be funny rather than didactic, his thought experiments about the effects of relativity on bacon or astronomically correct nursery rhymes encourage an appreciation of science.
Hark! A Vagrant by Kate Beaton: Hark! A Vagrant is largely on pause at the moment while Beaton works on other projects. (Incidentally, if you haven't read Ducks, her recent comic about working at the Fort McMurray oil sands in Alberta, go do that now. Really.) But Beaton's manic history comics have deepened a lot of readers' appreciation for history—Canadian history in particular.
Beatrice the Biologist by Katie McKissick: McKissick is a Scientific American blogger and the author of the book What's in Your Genes?: From the Color of Your Eyes to the Length of Your Life, a Revealing Look at Your Genetic Traits. Her comics celebrate and communicate the wonders and oddities of biology—and we agree that sports teams need tougher animal mascots. Go tardigrades!
Brief Histories of Everyday Objects by Andy Warner: Ever wonder how the postcard, the bathtub, the ballpoint pen, the microwave, or kitty litter came to be? Warner has you covered with fun and quick backgrounds on objects we take for granted today. More recently, Warner has been drawing similarly illuminating comics for The Nib.
Boxplot by Maki Naro: Naro was behind the comic Sci-ənce and now writes and draws comics for Popular Science. Boxplot explores a wide range of science topics, such as crystallography and the shape of the human heart in space, with breaks for anecdotes like this one about the value of beards in cold-weather fieldwork.
Incidental Comics by Grant Snider: Snider's comics are endlessly whimsical meditations on art and literature, and there's a great deal to be gleaned from his pieces about the Greek muses, the imaginary National Department of Poetry, René Magritte, Georgia O'Keefe, and more.
Abstruse Goose by the Goose: Like xkcd and SMBC, Abstruse Goose isn't always focused on math and science, but it has its moments of scientific and philosophical profundity. Mostly, though, I'm unnerved by the suggestion that my mirror-universe doppelgänger might not be exceptionally evil—and in fact, might not be all that different from me at all.
2D Goggles by Sydney Padua: The Thrilling Adventures of Lovelace and Babbage—in which Ada Lovelace and Charles Babbage team up to fight crime—isn't exactly factual, but it is inspired by real events from the Victorian Era. Fortunately, Padua is an obsessive footnoter, so we get to see the facts behind her madcap fictions.
Family Man by Dylan Meconis: Why, you might ask, am I including a historical drama among all of these comics about the marvels of science? Because Family Man is incredibly well researched and fascinating. Meconis is the daughter of a theologian, which inspired her tale of Luther Levy, a disgraced Lutheran scholar of Jewish decent with some atheistic leanings living in 18th century Germany. If all the jokes about Spinoza set your head spinning, don't worry—this comic has a bibliography.
Lucas Adams' Modern Farmer Comics: Food comics tend to focus on the culinary aspect of our edibles, but Adams zooms in on our agrarian history instead. Many of his comics are illustrated adaptations of a dairy farmer's 1941 journal, but others are about specific historical events: a maple syrup heist in Quebec, the 1930s mulberry craze, and the great livestock die-up of the 1880s among them.