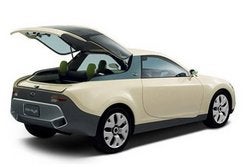 Subaru has decided not to lock itself into just one satellite radio contract for its 2007 vehicles and has signed agreements with both Sirius Satellite Radio and XM Satellite Radio.
For Stern fans, Sirius will be offered as an exclusive port and dealer installation option in its 2007 Subaru Forester and Subaru Impreza. But it will also be a standard option in the 2007 Outback Sport Special Edition.
XM Satellite, on the other hand, will have its service—exclusively—in three of Subaru's 2007 models, including the Legacy and Outback as well as the B9 Tribeca Special Edition. Contention?
Subaru Signs With Sirius, XM [TWICE]
Pricing and options for Sirius Satellite Radio