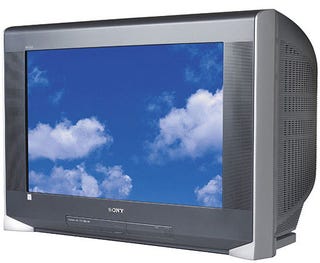 Reports of the death of the lowly CRT have been greatly exaggerated, and Sony asserted that point with the introduction of a line of FD Trinitron WEGA direct-view televisions—one of them HD, the rest not. Sony must believe there are still people who want to buy standard-definition TVs, so it answers that perceived need with the 36-inch KD-36FS170, 32-inch KV-32FS170 and 27-inch KV27FS170. They all use that old-skool 4:3 aspect ratio and are sticking with that 480i resolution no matter what you say.
Back to the present day, the flagship of Sony
s direct-view line of CRTs is the 34-inch 16x9 KD-34XBR970 (pictured above), a full-blown HDTV with lots of enhancement circuitry built in, such as Sony
s CineMotion inverse 3:2 pulldown to make those films you like to watch look better, and Sony's proprietary image enhancers such as Dynamic Picture Processor and Clear Edge. Keeping the colors true is
Trinitone
color temperature technology. And there's one more important detail: When you're talking tubes, the price is always right, especially compared to LCD and Plasma—this one
s available for preorder at Sony Style for $1200.
Note that even though LCD and plasma displays continue to improve, lots of golden-eyed video engineers will tell you that the good old cathode ray tube still gives you the best video quality.

Product Page
Specs and pricing on Sony CRT TVs