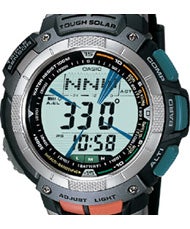 Just got a Pathfinder PAG-80 to play with and we're very pleased. We're usually kind of down on digital watches, but that's just disgusting snobbery. Anyway, it's been reviewed over at Friend-of-Gizmodo site, WristWatchReview.
The PAG-80 has three major features - a compass, an altimeter, and a barometer. These are relatively standard features on wrist computers and while the technology behind these features haven
t improved much over the years, they
re extremely useful in a pinch and quite fun to show off. It is also solar powered, ensuring you
ll never have to swap out a battery.
Review - Casio Pathfinder PAG-80 [WristWatchReview]
Pricing on Casio Pathfinder watches