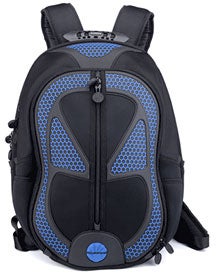 The Slappa Velocity Pro Laptop Backpack is built to protect all your electronics from the worst elements with its thick exoskeleton made out of rainproof Scuba-prene. It has a compartment big enough for a 17-inch laptop, four main compartments and plenty of sub-compartments, too.
Available in a few different colors, the nicest-looking is the blue one shown here, but watch out for the platinum-colored
Spyder
model—it looks like a giant tick clinging to your back. Available now for $79.99.
Product page [via MobileWhack]

Slappa hard body cases on sale