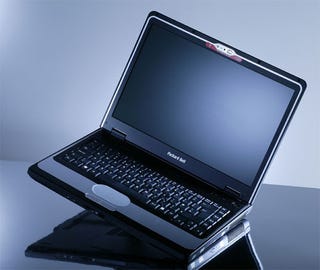 We haven't featured the Packard Bell brand of laptops much here on Giz since, well, they haven't done much worth mentioning—until now. Their Skype Edition notebook will have an integrated webcam on top of the screen along with a dedicated Skype button.
The value added of this button is that you'll be able to use it to answer incoming calls or bring up the Skype program to make an outgoing call. The laptop also has a 14-inch screen and is going for €899. Availability is limited to Europe, as Packard Bell's notebooks are number one in Belgium, France, the UK and the Netherlands. To us, the price sounds kind of steep just for a Skype branding and a Skype button.
Packard Bell's press site is down, so no photos right now. We'll update when the site comes back.
Image is up.
Packard Bell & Skype Announce The World's First "Skype Edition" Notebook [Skype]