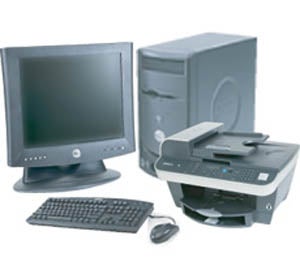 Layin' Away


By Brendan I. Koerner
Michael Hudson's Merchants of Misery is one of the unheralded classics of populist economics. A forceful polemic against the industry of pawn shops, rent-to-own stores, and payday loan outlets that cluster around downtrodden neighborhoods like flies on poop, Hudson's book describes exactly how The Man goes about sucking every last penny out of the poor. All those places that advertise with the slogan "No credit, no problem!"? Black holes for cash.
No matter how thin your wallet is, of course, it's tough to shake the yen for material goods. And nowadays, the item atop most wish lists is a computer—to further Junior's studies, to download music, or to surf for buxom, underaged MySpace profilees. There are plenty of low-end options—a passable eMachines setup can be had for, what, $300 or so? But that assumes that the buyer has decent credit. For those who don't, and are thus primed for the likes of Pawn America, there are a few businesses that specialize in selling PCs on layaway. Perhaps the most well-known—or infamous—of these ventures is Financing Alternatives Inc. of Chesapeake, Virginia. After the jump, the skinny on how FAI manages to sell low-end PCs for staggeringly high-end prices. PLUS: You criticize, we listen—and reward, to boot!
On the surface, at least, the FAI business plan is really straight out of Merchants of Misery: target customers with horrendous credit, then charge 'em up the ying-yang with a weekly payment plan. Take this "small business desktop," which is advertised as running a Celeron D processor and housing an 80-gig hard drive. The lowest advertised total price on this, at $35.99 per week for a year, comes out to $1,871.48. Meanwhile, Dell's closest parallel, the decidedly low-end Dimension B110, now runs $299 (albeit sans printer). So, just because you have ghastly credit, you're being forced to pay a minimum of $1,500 or so extra. Ouch.
Note, however, the hedging in FAI's language. Not only are the weekly prices quoted their absolute lowest—perhaps for those with at least some modicum of credit?—but they also emphasize in several of their product descriptions that "actual system may vary from image." In other words, you may not getting the cheapo Dell that they're depicting, but rather a homebrew unit that they've assembled out of random parts.
That's certainly one of the big complaints against FAI, a frequent target for consumer griping. The Better Business Bureau has processed 389 grievances against FAI in the past 36 months, the vast majority of them from folks who wanted their money back after either not receiving a computer, or receiving one so abysmally crappy that they'd rather do without. The real goods, however, are at RipOffReport.com, where a host of disgruntled FAI customers let fly about the company's penchant for taking advantage of the credit poor. Seems like FAI automatically debits money from your checking account—for which it charges you $9.99 per debit—for three months, at which point you might get your low-end computer. Might.
Though they depict cheap Dells on their website, FAI often builds their own systems. According to one RipOffReport.com correspondent, who identifies himself as a current employee of FAI, the company uses the cheapest components available on their homebrew models, often stuffing archaic EDO RAM or non-AGP video cards into the PCs. Obviously, this stuff ain't so simpatico with today's software; pity the kid who tries playing the new Half-Life title on his FAI box.
Lastly, the contractual language that FAI makes you agree to makes it mighty tough to get recompense. You've gotta go through binding arbitration via the National Arbitration Forum, which is such a royal pain that most folks just give up and take the loss. Brilliant, albeit slightly evil.
After seeing a FAI commercial on daytime TV—never miss my Judge Judy, man—I gave the toll-free number a call and tried to get some direct answers. What model number Dell would I be getting, I asked? Lots of hemming and hawing is what I got, a response that basically amounted to, "You'll get what you get." She seemed far more interested in getting my bank-account routing number ASAP.
Look, I understand how tough it must be if your credit's shot—you still want to provide the very best for your family, and Dell Financial Services just won't lend a hand. But there's something pretty odious about rigging the game to this extent, just so you can wring a few extra bucks out of those who occupy the economy's bottom rung. Or am I being too harsh on FAI? If you've had an experience with this company, either good or bad, please let me know.
In the tradition of Jerry Springer, a final thought: Is there an opportunity in the low-end PC marketplace for a less predatory sort of layaway plan? Anytime you're dealing with folks who won't pass the easiest credit test, you're gonna have problems. But as entry-level PCs come down to the $200 mark and below, seems like the risks will be ameliorated somewhat. Society works, after all, because folks are basically honest. And, heck, if you have their bank-account details, can't you use that a cudgel in case things go awry?
HANDS ON: Numerous—okay, three—complaints about last week's column, in which I judged some low-end Coby and jWIN TVs without actually testing the units. The barrier wasn't laziness, I assure you, but rather budget—Low End Theory doesn't have one.
Or rather, didn't have one. We do now, a whopping $50 per test. And we're throwing open the low-end lab to you, dear readers. What should I spend my first Grant on? An assortment of clock radios? A couple of wannabe Discmen? An assortment of Uniden cordless phones? Cast your vote, and I'll get on obtaining the merch and doing the benchmarking right quick. And at the end of the day, you'll get some Low End Theory recognition, as well as an entry in our annual sweepstakes to get some of the products I'll be testing. Could there be a finer inducement than the prospect of a faux Watchman?
Brendan I. Koerner is a contributing editor at Wired and a columnist for both The New York Times and Slate. His Low End Theory column appears every Thursday on Gizmodo.