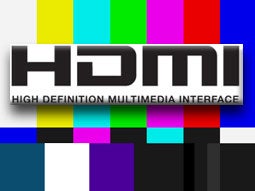 We mentioned last week that Deep Color capabilities would be added to the next version of HDMI, and today the HDMI 1.3 upgrade was finalized and published by the seven companies behind it. This was the final step in the implementation of the updated standard, announced in January by the founders of HDMI: Sony, Matsushita Panasonic, Hitachi, Philips, Silicon Image, Thomson and Toshiba.
Enabling that Deep Color capability is an increased data transfer rate from the current 4.95Gbps to 10.2Gbps. Another improvement is called "lip sync support," which automatically synchronizes video and audio tracks. The new spec also rolls out a smaller version of the HDMI connector that can be used with digital cameras, camcorders and mobile devices.
Along with that announcement, Sony added that it would implement the HDMI 1.3 technology into its upcoming PlayStation 3 gaming console. Could this finalization of the spec have something to do with the latest delay of Sony's Blu-ray disc player?
HDMI 1.3 upgrade finalised, published [Reg Hardware]