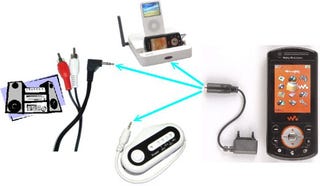 The nice folks at Friendtech sent over a few things for us to review. We'll get to the other later, but first up are the iDea Cellphone Adapters.
These adapters are for the later model Motorolas, Nokias and Sony Ericssons. You have to pick up the one specific to your phone, since none are inter-operable, so if you ever change phone manufacturers, say from Nokia to Motorola, you'll have to pony up for another set. You'll probably want to though, since the kit doesn't just come with one adapter, it comes with four adapters that makes this your phone pluggable into pretty much any audio device you have in the house.
Find out what we think after the jump.
As you can see from the picture, you plug the cellphone adapter in your phone and use the heads to hook it up to your 3.5mm headphones, RCA audio for home stereo, the iDea travel kit and transmitter (more on that in another review) and the iDea Home Dock Wireless (that one too).
This thing is pretty useful if you're one of the few iPod-less people still walking around whose only portable media player is your Sony Walkman phone. You can play your tunes in the car with the Travel Kit or on your home stereo with the RCA cables or Home Dock. Definitely worth it for music phone users.
Stick around for reviews of the Wireless Home Dock, Wireless Hi-Fi Headset, and the Travel Kit.