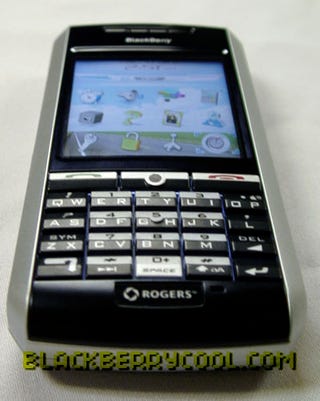 A blackberrycool reader was at a Roger's launch party and lucky for them (and us), won a 7130g. He took a few pictures and told the world what he thought about the new device.
The first thing you notice when you place the 7130g in your lucky, lucky hands is how junky it makes the 7100 feel. They seem to have shaved about half a centimeter off the length of the device and a few solid millimeters off the width. In every way the 7130g looks smoother, slimmer and generally more aesthetically pleasing than the 7100; they've basically taken the best design elements of the 8700 and the 7100 and thrown them together.
Other thoughts he had was that the the 7130g takes some design cues from the 8700. The square keys makes it a bit easier to hit, even though the space key has been shrunken quite a bit. It was easy for him to transfer his stuff from his 7100 onto the 7130g by making a backup and loading them onto the new phone. The guy really likes the 7130 more than the 7100 and thinks it may make convert some 8700 users that want a more "phoney" phone.
First look at Rogers' BlackBerry 7130g [BlackBerry Cool]