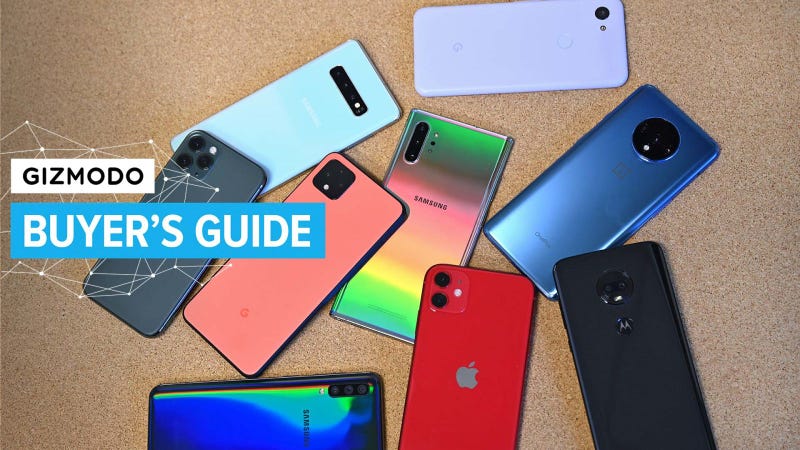 The last few months have brought us a whirlwind of phones launches including three new iPhones from Apple, not one but two versions of the Galaxy Note 10 from Samsung, a new Pixel from Google, a revamped and more affordable take on the OnePlus 7, and more. And that's not even counting all phones that trickled out in late spring and early summer. Hell, even Samsung's wildly expensive $2,000 Galaxy Fold has finally gone on sale after a four-month delay. So if you're trying to decide which phone is the one you need, we've got a bunch of recommendations for you right here.

Buying forecast for the rest of 2019: At this point, all of 2019's most important phones are out, which makes now a great time to consider buying a new phone. On one hand, there are a number of brand new devices like the Galaxy Note 10 and iPhone 11, which sports better screens and more cameras than before. At the same time, people looking for a deal should also be able to pick up 2018 model-year phones for a discount, as people begin to trade in their older handsets and device makers look to clear out their inventories.
Also, with Black Friday coming up, keep an eye out for deals on brand new phones, with retailers like Best Buy offering up to $400 off phone like the recently released Pixel 4 and a bunch of other high-end phones. Just remember to read the fine print to make sure you can take full advantage of the discounts.
The best all-around phone
After somewhat lackluster sales of its predecessor, big expectations were hoisted upon the Galaxy S1o. However, by adding a number of new features, including a triple rear camera module for both the S10 and S10+, an in-screen fingerprint sensor, a nifty punch-hole selfie camera, ridiculously good battery life, and Wireless PowerShare tech, Samsung has really delivered.
The Galaxy S10 is also one of the first phones sporting Qualcomm's new Snapdragon 855 chipset, and for 2019, Samsung even upped the S10's base storage to 128GB across every model. With the new dynamic AMOLED screen on the new S10, Samsung has also once again proved its displays are, without a doubt, the best in the business.
That said, at $900 and $1,000, the new Galaxy S10 and S10+ aren't cheap, so try to look for a deal if you can. But if you want one phone that has it all, Samsung's latest flagship is the easy pick. And if you don't mind having a smaller screen and one less rear camera, the $750 Galaxy S10e offers a great balance between high-end features and something with a more reasonable price tag.

There's a lot to like about the new Pixel 4 including a fully revamped design, the addition of a 2x telephoto lens, 3D facial recognition tech, and a nifty new gesture recognition system. And thanks to software tweaks and a new 90Hz screen, stock Android feels smoother and faster than ever before.
The main things holding the Pixel 4 back from earning our top spot is its lack of an ultra-wide angle camera (which you get on every other flagship phone from 2019) and just average battery life. However, if you don't mind big screens, the Pixel 4 XL offers an extra two hours of battery life compared to the standard model, which should help alleviate anxiety about running out of juice.
---
The best mid-range phone
Even though it starts at just $400, the Pixel 3a might be the best phone Google has ever made. It has all the great features we loved on the standard Pixel 3, including a colorful OLED screen, rear-mounted fingerprint reader, and, most importantly, the same excellent camera experience, but for half the money. The only big thing it's missing is wireless charging. But in return, the Pixel 3a comes with a built-in headphone jack. If all you want from a phone is a nice screen, excellent performance, excellent battery life, and a top-notch camera, then the Pixel 3a is exactly what you need, and one of the best smartphone values available today.
While its price sits on the high side of the mid-range bracket, for anyone looking for a phone with better specs and performance than the Pixel 3a, the OnePlus 7T is it. Like the OnePlus 7 Pro, the OP7T has a gorgeous 90Hz display that makes even simple things like scrolling through your app drawer a treat for your eyes.
Meanwhile, on the inside, the OP7T features a Qualcomm Snapdragon 855+ chip, which offers almost double the performance of the Pixel 3a, two extra rear cameras (a 2x telephoto and 117-degree ultra wide), and a big 3,800 mAh battery that delivers more than 14 hours of continuous use. And unlike a lot of other big-name Android phone makers, OnePlus consistently delivers some of the most timely OS updates. Just know that while the OP7T is only available in stores from T-Mobile, unlocked versions also work on both AT&T and Verizon.
---
The best budget phone
By streamlining and revamping its affordable phones, Samsung has managed to dethrone Moto's G-Series line with the Galaxy A50 as the best new budget phone. Not only does the A50 come with a bigger and better looking 6.4-inch OLED display, but it also has slightly faster performance and three extra hours of battery life (12 hours 18 minutes) compared to the Moto G7 (9:29). And while both have dual rear cameras, the Galaxy A50's pics routinely come out sharper with more pleasing colors. So while the Galaxy A50 costs a bit more than the Moto G7, if you can swing it, that extra $50 is totally worth it.
While the G7 might not sit at the top of our budget phone rankings anymore, that doesn't mean it's not worth some serious consideration. For 2019, Motorola doubled the phone's base storage to 64GB, while still providing a microSD card slot in case you need even more room. Meanwhile, the G7 features a large 6.2-inch screen, headphone jack, and two rear cameras with support for fancy camera tricks like portrait mode, selective color, an even a special cinemagraph tool. And with support for all the major U.S. cell networks, there's no need to worry about the Moto G7's carrier compatibility. Oh, and it's $50 cheaper than the Galaxy A50 too.
---
The best super-premium phone
Boasting three cameras in back, a built-in stylus, improvements to DeX mode, better battery life, and an even bigger 6.8-inch display, the Note 10+ is still the closest thing to a true everything phone on the market. Samsung also shrunk the size of the Note 10's punch-hole selfie cam and moved it to the middle, so that's it less distracting, while also adding the ability to convert handwritten notes to text, which can then be exported to Word docs or PDF files.

Samsung upgraded the speed of the Note 10+'s wired and wireless charging (though you will need new accessories to take full advantage of those capabilities.) And for anyone who thinks a 6.8-inch phone sounds a bit unwieldy, there's now an even smaller Note 10 with a 6.3-inch display. We just wish Samsung hadn't axed the Note 10's headphone jack.
While the G8x Dual Screen's price and lack of special features like 3D time-of-flight cameras means it's not your typical super premium phone, getting a phone with two screens for just $700 can't be ignored. Featuring a Snapdragon 855 chip, 6GB of RAM, and a 128GB of base storage, the G8x has solid specs. And even though the phone's single 4,000 mAh battery is responsible for powering both screens, it's longevity ain't half bad either.
Meanwhile, for multitaskers, power users, or social media addicts, having two identical 6.4-inch touchscreens is a dream, letting you do things like watch a TV show and live tweet at the same time, or simply have your calendar open while responding to emails. And for gamers, the G8x's second screen can even double as a virtual controller, with a default layout for traditional action games and RPGs, along with a fully customizable layout that you can tweak to suit games that favor on-screen controls like PUBG Mobile, Fortnite, or any number of racing games.
---
The iPhone most people should buy
With a starting price of $700, the iPhone 11 actually costs $50 less than the iPhone XR when it launched last year. However, despite its lower starting price, the iPhone 11 comes with a second ultra-wide camera in the back, an all-new night mode for capturing low-light photos, a new A13 processor, and even slightly better battery life. Apple has also improved some of the best things about its previous-gen phones, like making Face ID unlock faster and adding better water-resistance (up to two meters for 30 minutes). Unless you're a smartphone photography fanatic, the iPhone 11 is the best iPhone for pretty much everyone.
Aside from a new OLED display with an excellent peak brightness of 1,200 nits, the iPhone 11 Pro's upgrades are all about photography. For 2019, Apple has given the iPhone 11 Pro a new triple rear camera module featuring 12-MP wide, ultra-wide, and 2x telephoto lenses, along with support for things like 4K/60 FPS video capture, an audio zoom feature, two new studio lighting modes, and more. And as a small nod to the phone's "Pro" moniker, Apple is even including an 18-watt power adapter in the box, so unlike the standard iPhone 11, you don't need to buy any extra accessories to take advantage of Apple's fast wired charging.
---
What about 5G Phones?
Ever since the nation's first 5G network went live back in April, 5G phones have started hitting the market, including handsets from big names such as Samsung, LG, OnePlus, and more. However, even if you live in a location with 5G coverage, are on the right carrier, and have upwards of $1,000 to burn (which is a lot of "ifs"), we still don't recommend that anyone buy a 5G phone just yet.
The main reason is that 5G networks are still very much a work in progress, and despite being capable of offering download speeds in excess of 1 Gbps, 5G coverage is often limited to specific neighborhoods in supported cities, and to the entire city as a whole. Additionally, depending on which carrier you're on, your 5G connection may only support downstream traffic and not uploads. And even if you get a 5G phone now, there's a good chance it will be outdated in a just year as 5G standards and tech continue to evolve.
---
How has this list changed? Read back through our update history:
11/18/19: Added the Pixel 4 to our best overall phone recommendations and the G8X Dual Screen to the best super premium list. 

10/8/19: Updated the list for fall 2019 with new picks for the Best Mid-Range, Budget, and iPhone sections. Also updated and renamed the Hyper Phone category to Super Premium Phone, and added a section discussing 5G phones.  
5/17/19: Revamped the list to reflect all the big Spring 2019 phone releases. Replaced the Pixel 3 with the OnePlus 7 Pro as the second-best phone overall. Awarded Pixel 3a "Best Mid-Range Phone" and moved the OnePlus 6T to second choice. Replaced the Moto G6 with the Moto G7 as "Best Budget Phone" and also updated the Best Hyper Phone with the Huawei P30 Pro.

3/11/19: Added the Samsung Galaxy S10 as the best phone overall. Moved the Pixel 3 to "Also Consider."