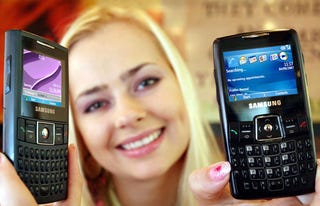 Not much to say that we haven't already said about the slim Samsung SGH-i320 Smartphone, except that it's now about to be unleashed, ready to hit the streets and get up in the face of the Motorola Q for a Battle Royale of the Alpha smartclones smartphones.
A near-clone of the Motorola Q, it has a 2.2-inch LCD, 1.3-megapixel camera and a microSD slot, and its 11.5mm thickness exactly matches the Q, too. Heck, from spitting distance, you might think someone was holding a black Q. That must've been the general idea.
Although the SGH-i320 missed its Q2 ship date announced at 3GSM in Barcelona in February, it will surface in parts of Europe this month, with the rest of Europe and Southeast Asia getting it shortly after that. Samsung's not telling when it will be available in the United States.
Samsung SGH-i320 Smartphone Gets FCC Approval [MobileMagazine]