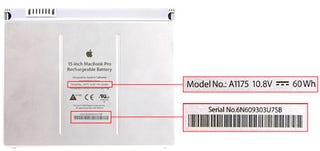 If you have a 15-inch MacBook Pro bought between February 2006 and May 2006, Apple is offering to exchange your battery for a new one. WTF? According to Apple:
"We recently discovered that some 15-inch MacBook Pro batteries supplied to Apple do not meet our high standards for battery performance. To give our users the best experience possible, we will replace these batteries for customers free of charge."
Apple assures you the battery doesn't pose a safety risk, so don't worry that it's a ticking bomb ready to explode or anything like that. Check out your battery and see if its model number is A1175 and has a 12-digit serial number ending in U7SA, U7SB or U7SC. If so, you get yourself a brand new battery for nothing, including free shipping.
15-inch MacBook Pro Battery Exchange Program [Apple] (Thanks, Mario!)