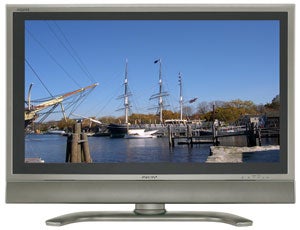 Consumer Reports got its hands on the Sharp LC-37D90U 1080p 37-inch LCD TV ($2500), and the sensible publication liked it. A lot. True 1080p sets have been few and far between up until recently, and this 37-incher packs a lot of pixels into a relatively small space. The Consumer Reporters lauded its "gorgeous resolution," calling it "among the best LCD sets we've ever tested."
The trusted consumer pub notes that many of the first 1080p sets weren't able to accept 1080p signals via HDMI connectors, but this one can do that and more, and like many of its non-"true 1080p" predecessors, the set does a great job of up-rezzing 1080i video to 1080p.
On the downside, the Consumer Reports reviewers noticed a rather narrow viewing angle, and pointed out the "so-so" black level of the set, a commonplace drawback of LCD displays, but a problem they judged to be worse than other Sharp LCDs. Overall, they gave it a big thumbs-up, calling its picture quality "beautiful."
First Look: Sharp LC-37D90U: 1080p in a 37-inch LCD set [Consumer Reports]