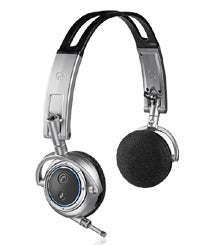 If you're looking for some high-end quality for your A2DP Bluetooth-enabled music phone, the Plantronics 590E headset seems to be just the ticket. The headset is rated at 12 hours of talk time and 10 hours of listening time, dedicated call buttons and Audio Visual Remote Control Profile (AVRCP) to control your music from the headset.
You'll probably feel like a tool wearing this in the car—not to mention that it may be illegal and unsafe to cover up both your ears while driving—but the headset is useful at home or in the office.
Available later in August for $139.95.
Product Page [Plantronics]
Press Release [PR Newswire]