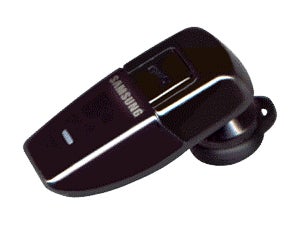 This little Samsung WEP 200 headset we looked at a few weeks ago was just reviewed by Nicole Lee, Wired and Gizmodo Alum, and current CNET staffer. And now, summed up by Gizmodo to accomodate your attention deficit disorder.


The bottom line: The Samsung WEP200 is a delightfully small headset that fits comfortably in either ear and features quality sound.

More choice quotes on this sweet little earpiece after the jump.

-The headset measures 1.5 by 0.5 by 0.5 inches.
-It also has a very simple design with a square multifunction button in the middle, a blue indicator light below that, and the volume rocker on the left spine
-The headset comes with a little carrying case that doubles as a charging station—just place the WEP200 in it and plug the case into the adapter.
- Call quality was good, but it suffered windier environments.
-Aside from answering and ending calls, you can reject them, redial, place a call on hold, answer a second call, call mute, and voice dial.
-The Samsung WEP200 has a rated talk time of four hours and a standby time of three days.
Samsung WEP200 [ CNET ]