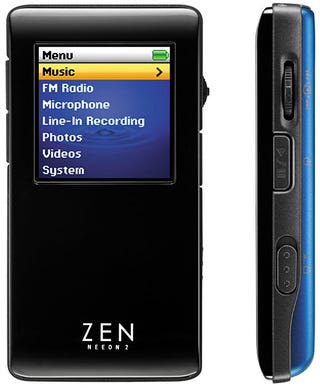 Everybody's gunning for the iPod nano, and now Creative weighs in with its Zen Neeon 2, to ship in 1GB, 2GB and 4GB capacities. The telltale indication that Creative had an eye on the nano when designing this Neeon 2 is its thickness, measuring 12.5mm compared to the nano's 12.7mm.
The Neeon 2 also plays back video, although that's of limited usefulness on its puny 1.5 inch screen, but it also adds an FM radio and a built-in mic for voice recording. You can also record directly onto the player using its line-in recording function.
Available this month in five kooky colors, the 1GB unit will be $199 $125.95 ($149 for the nano), the 2GB will be $269 $170.26 (nano is $199), and the 4GB unit, available only in black or silver, will be $309 $195.58 (compared to the nano's $249), shipping on an as-yet-unannounced date.
Update: Oops, those were Singapore dollars for the Neeon. Thanks to all who set us straight! -CW
Product Page [Creative]
Press Release [Creative Worldwide]