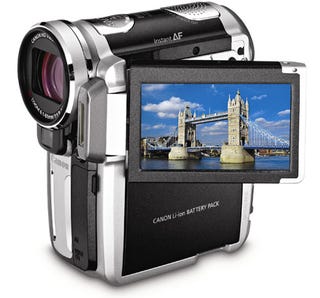 Canon fired back at Sony, announcing the HV 10, its first consumer-level HD camcorder. It records high-definition footage in the low-cost HDV format at Canon's so-called "full HD 1920x1080i." Consumers will also like its ability to take stills at 3.1 megapixels, and store them on a mini-SD card.
Canon says the HV 10 is the world's smallest HDV camcorder, where the company must mean videotape-based HDV camcorders, because the Sanyo HD1a flash-based HD camcorder is smaller.
Other standout features on the Canon HV 10 are the instant autofocus, which Canon calls "dramatic," and its 10x HD video lens with optical image stabilization. The real jaw dropper here is the $1300 price, the cheapest HDV camcorder yet—and a whole lot less expensive than Canon's $4700 prosumer-level XH A1. Expect lower prices and competing models very soon.
Product Page [Canon USA, via Sci Fi Tech]