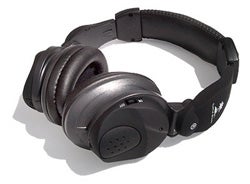 Two noise reducing headphones from Turtle Beach, the company that trailed Creative in the sound card business as far as we can remember. Their ANR-10 and ANR-20 puts their extensive sound expertise into helping make that loud "foreign" couple on the plane just a little bit more bearable.
The ANR-10 are of the wrap-around kind, with foam padding and a single AAA battery to power the noise cancellation features. The battery isn't necessary for normal music listening, just for when the "active noise reduction" feature is turned on.
The ANR-20 is a fold-up standard headphone set, with cushioned cups and a detachable cable so you can have just noise reduction without the music. Their product page didn't specify whether batteries were required, but it's probably safe to say they are.
The ANR-10 is available for $59.95 and the ANR-20 for $99.95.
ANR-10 Product Page [Turtle Beach]
ANR-20 Product Page [Turtle Beach]
Press Release [PR Web]