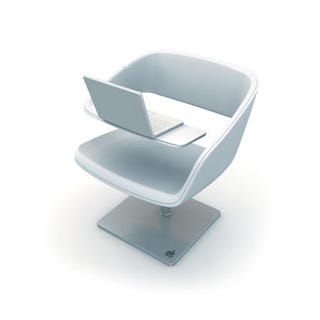 Swank design mag Metropolis profiles Transit Design, and makes mention of Syntes Design of Stockholm and their Sit Different Chair. As cleanly designed as a Macbook, with a swivel tray for namesake laptop. And the all white leather seat sits on a metal base, complete with Apple logo.
Syntes is, "In negotiations with a handful of companies," to make the seats. Drool, fanboys, drool.
Even if it does look torturous to sit in, we'll still be happy to perch on our Apple-branded thrones, in black turtlenecks, sipping lattes and feeling smug.
Sit Different Chair [ Metropolis ]