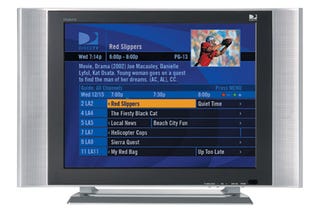 CNET's John Falcone comes out of nowhere and gets his hands all over this Humax 20-inch LCD. First, he congratulates the maker for integrating a DirecTV receiver, so we can forgo the unsightly decoder box.
Then, with the same hand he extended his salutations with, he knocks it down for its 4:3 aspect ratio, and low def, 640 by 480 resolution picture. Also, its picture is overly red, so the spanked bottoms in your Tushy Attack #37 DVDs will look unnaturally rosy and flush.
He also drops the happy-bomb that a 32-inch, HD version will be hitting in the fall.
Humax LD2060 LCD TV [ Via CNET ]