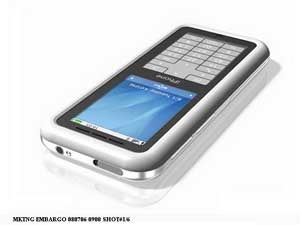 Sssh. Promise you'll keep this a secret, okay? We just got tipped from an inside source that this is what the iPhone will look like! Really, we're serious. Keep this between us.
I won't check this email again. Do not ask me how I got this, as I could get into big trouble. I will give you more as time permits. I have 2 more iphone pics, and some leopard info on handout that will be given to conference attendees. You can post this up now though - I will give you other info when I can dafely do so.
Really, let's not get Jason Bourne, super spy, in "big trouble". C'mon, you promised!
The other comes from Slashgear and is a bit less "top secret". It combines the touchscreen patent we saw from Apple earlier this year with an equally un-Apple-like design. Check the jump for pics.
iPhone Concept Design [Slashgear]