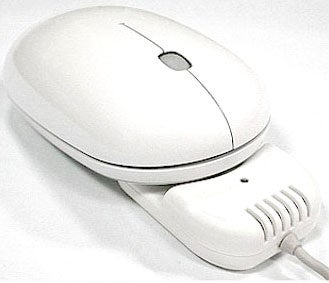 MacMice has announced The Mouse BT II, set to ship August 9. The company tried to improve upon Apple's pathetic Bluetooth Mighty Mouse, whose scrolling device is smaller than a nipple on a Chihuahua, with its MicroScroll wheel. Come to think of it, improving upon the Mighty Mouse's miniature trackball was an easy thing to do.
Even though MacMice has designed this latest Bluetooth pointing device from scratch, it somehow, like all of its other products, looks to us like a butt crack. We also can't help but notice the way the mouse appears to be humping its charger.
Anyway, the company says the Mouse BT II's small scrolling wheel, which works with both Macs and PCs, is highly precise, and gives you a "silky smooth feel." Cop your silky smooth feel for $70.
The Mouse BT II Product Page [MacMice]