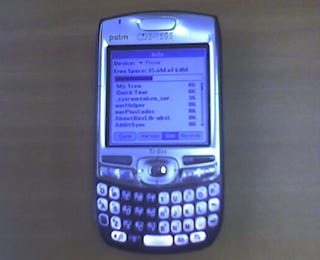 Is this the new GSM Treo 700 that's coming in Europe? Or is it a completely new model? We're not sure, but the guy who posted these pics has a few things to say about this Palm OS-based Treo.
He says there's no right shift key, it has 64MB of internal memory, it's the same size as the Treo 650, and it feels good in his hand.
Another posting on the same site says they changed the battery since the 650 so it's thinner, it has the same camera as the 650, and stereo speakers(?) to listen to music. The Palm OS version is 5.49106 compared to the Treo 650's 5.40017. It's somehow related to the Japanese mobile company Access that bought out PalmSource.