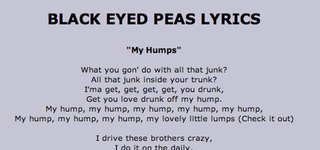 A study by Rand Corp. concluded that teens who listen to sexy music on their iPods started having sex sooner than kids with other types of music. The types of songs classified as "sexual" were all over the map—hip-hop, rap, pop and rock—but all contained sexual content in the lyrics.
Among heavy listeners, 51 percent started having sex within two years, versus 29 percent of those who said they listened to little or no sexually degrading music.
That's very useful information for teens. So boys, if you're trying to get your sweetie to go all-the-way downtown Charlie Brown for the first time, load up her iPod with some choice tracks.
Sexual lyrics prompt teens to have sex [Yahoo News via The Inquirer]