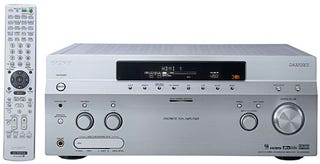 As the HDMI spec filters throughout the home theater landscape, more and more receivers fall into line supporting that high-definition audio and video I/O scheme, and now Sony's TA-DA3200ES receiver joins the crowd with the ability to move 1080p video from one place to another with plenty of power to spare.
The thing that will really rock the Casbah is its sheer brute force, where it's able to spit out 120 watts per channel, rather unremarkable until you consider there are seven channels involved in its 7.1 output. Imagine that, 840 watts. We haven't seen the back of this monster yet, but it's got to look like one of those old patch panels the telephone company used in the early part of the previous century.
Tipping the Kangol to one of our astute commenter's remarks from earlier today, maybe one day there will just be one input and one output, all HDMI. We're not holding our breath.
Product Page (Japanese) [Sony]