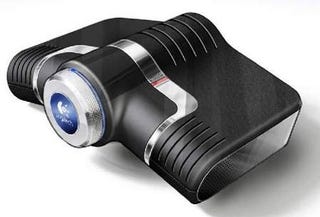 Three handsets from Logitech lets you Skype like a pro, as long as you have a PC nearby. The Logitech QuickCall USB Speakerphone looks like one of Batman's toys, which is definitely alright in our book. It plugs in to your PC via USB, and has a two-microphone array to help eliminate echo by filtering out the sound coming from the speakers and only picking up your voice. This will be available for $99 in October.
The other two VoIPers after the jump.
Logitech's second product is the Cordless Internet Handset, which is similar to this Linksys Skype phone in that it needs a PC to make calls. It can make Skype to Skype, Skypeout and Skypein calls. It works up to 164 feet from the PC, and will be available for $99 in October.
The last is the Logitech Cordless Headset, which looks like a Bluetooth headset you use for cellphones. This headset comes with a USB receiver so you can connect to your PC to make Skype calls, or you can connect this to your Bluetooth-enabled cellphone. It too is available in October for $99.
Press Release [Logitech via Pocket-Lint]