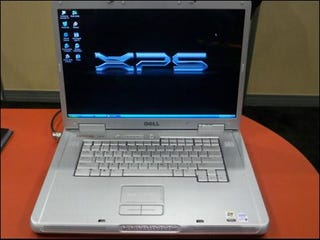 We've covered the XPS plenty of times before, but at this week's Digital Life show in New York, Dell was showing off their newly upgraded XPS M1710. The laptop is the first Core 2 Duo-based laptop that can be overclocked from 2.33GHz to 3.16GHz. It's also got ambient lighting on the sides (the lights glow according to the game you're playing), a speedy GeForce 7950 GTX graphics card, and an added Instant Office feature, which lets you view contacts, addresses, PowerPoint slides, and calendar info without having to boot up. Not that you'd be doing that with a gaming machine anyway, of course. Click on for some first-hand pics.

MediaDirect lets you listen to MP3s, look at photos, and view contact info without having to boot up.

Instant Office lets you view contact info, although you can't edit or save text. We have no friends, so we didn't have any info to read.